Marko Aleksander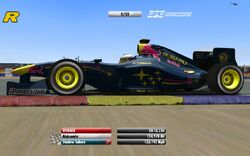 GPG Super League career
| | |
| --- | --- |
| Nationality | Slovenian |
| Active seasons | S1 - S7 |
| First GP | S1 Austrian GP |
| Last GP | S7 British GP |
Teams
S1 Minardi • S2-S4 Martini Paddock Racing •
S5-S7 Team Shadow
Driver statistics
| Starts | Wins | Poles | FL |
| --- | --- | --- | --- |
| 111 | 12 | 12 | 14 |
| | |
| --- | --- |
| Career points | 811 |
| Podiums | 40 |
| First win | S1 Canadian GP |
| Last win | S7 French GP |
Marko dreams of building a huge wooden boat in which to sail with his beloved wife.
The GPGSL sadly costs him much of his free time, and this burden and restricted boating desires often causes him to have momentary outbursts of song and dance of Ricky Martin to ease his pain.
Doctors have no explanation as to why this has happened, and he is expected to carry this throughout the remainder of his life.
Racing record
Edit
Complete Grandprixgames Super League results
Edit
(key) (Races in bold indicate pole position; races in italics indicate fastest lap; underlined races indicate most places gained)
Season
Entrant
1
2
3
4
5
6
7
8
9
10
11
12
13
14
15
16
17
WDC
Points
1
Minardi
AUT
20
BRA
Ret
MON
Ret
CAN
1
GBR
11
GER
3
BEL
1
ITA
4
JPN
4
AUS
1
3rd
80
2
Martini Paddock Racing
AUS
7
MON
Ret
BEL
13
ESP
3
BRA
2
JPN
11
AUT
12
USA
11
NED
19
CAN
8
ITA
Ret
GER
8
SAM
5
CZE
5
TUR
7
GBR
7
7th
74
3
Martini Paddock Racing
AUS
15
GER
2
USA
4
CAN
4
EUR
6
SAM
7
NED
6
BEL
3
MAL
9
ENG
5
HUN
1
ITA
1
JPN
5
SMR
2
BRA
5
MON
Ret
GBR
8
2nd
144
4
Martini Paddock Racing
AUS
18
ITA
5
BEL
16
JPN
2
EUR
4
MON
1
PAC
4
RSA
4
HUN
2
GER
3
BRA
1
UAE
8
MAL
5
USA
8
CAN
3
NED
16
GBR
6
2nd
139
5
Team Shadow
AUS
10
FRA
1
JPN
20
BEL
2
ESP
2
BRA
1
GER
11
NED
13
EUR
2
ITA
Ret
CAN
15
UAE
3
PAC
2
USA
10
MON
3
TUR
4
GBR
3
2nd
131
6
Team Shadow
AUS
6
ITA
2
CAN
3
HUN
3
USA
1
NED
Ret
SMR
9
GER
10
JPN
9
SAM
8
ATL
1
AUT
13
MON
10
FRA
2
BEL
Ret
BRA
3
GBR
22
2nd
112
7
Team Shadow
AUS
19
GCO
Ret
JPN
4
CAN
9
USA
15
FRA
1
NED
8
BEL
8
SUI
2
ITA
6
SMR
3
BRA
3
OCE
2
AUT
4
HUN
2
GER
4
GBR
2
3rd
131