Demon Racing make their debut in GPGSL competition in Season 8.
Powered by Holden engines, and running the SMD-ZG02 chassis, Demon Racing will be aiming to earn respect in their first season, with a team of talented drivers.
Race Drivers
22 Jake Legge and # 23 Zsigimond Somogyi
Test Drivers
44 Glen Sheppard, and #45 Sebastian Nell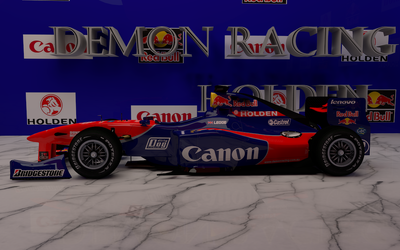 The Demon Racing innaugural livery, to be run in Season 8,
The team enters GPGSL with plenty of sponsorship, from large globally recognised companies. Canon, Red Bull, Castrol, Hertz, Travelodge and Lenovo share primary sponsorship on the car, Our team personnel will be fitted out in New Balance clothing, and Dirty Dog Eyewear
Demon Racing alos carry the sticker on the front wing struts, showing support for the Christchurch earthquakes.
Complete GrandPrixGames Super League Results
Edit
(key) (Races in bold indicate pole position; races in italics indicate fastest lap; underlined races indicate most places gained)
Season
Engine
Tyres
Drivers
1
2
3
4
5
6
7
8
9
10
11
12
13
14
15
16
17
18
Points
WCC
8
Holden

B

AUS
SOA
SIN
MAL
JPN
CAN
SAM
BRA
BEL
GER
AUT
SMR
ITA
MON
FRA
LUX
GBR
364
9th
Jake Legge
Ret
6
14
6
12
19
17
14
6
7
14
17
2
7
2
Ret
15
Zsigmond Somogyi
Ret
11
2
15
20
15
15
8
10
16
6
5
Ret
10
3
Ret
Ret
9
Holden

B

AUS
JPN
MAL
RSA
ESP
CAN
USA
BRA
BEL
EUR
NED
ITA
AUT
CZE
GER
FRA
GBR
99
6th
Jake Legge
Ret
7
2
17
5
11
Ret
13
14
16
17
8
Matthew Allington
19
14
16
7
Ret
Zsigmond Somogyi
7
Ret
3
15
7
Sebastian Nell
Ret
2
Ret
6
18
16
11
18
17
11
10
7
10
Holden

B

AUS
PAC
MAL
JPN
UAE
ITA
AUT
EUR
CAN
USA
BRA
RSA
OCE
GER
BEL
NED
GBR
FLE
178
4th
Sebastian Nell
1
2
16
3
3
3
7
16
2
5
13
4
4
Ret
8
9
6
4
Daniel Thomas
15
11
13
Ret
9
18
5
11
3
Ret
9
18
11
Ret
10
2
5
12
11
Holden

B

AUS
MAL
JPN
ITA
ESP
RSA
BRA
USA
CAN
GER
AUT
BEL
GBR
NED
110
5th
Sebastian Nell
2
3
Ret
Ret
16
8
6
3
8
11
10
8
6
Luke Russell
10
Daniel Thomas
7
9
Ret
Ret
14
20
Dan Mills
4
19
7
15
2
13
Connor Steer
Ret
12