Dan Mills
GPG Super League career
Nationality
British
Active seasons
2 -
Teams
DXR, TNR, Demon Racing
First GP
S4 Australian GP

Driver Statistics
Races
6
Championships
0
Wins
0
Podiums
1
Career points
28
Pole positions
0
Fastest laps
0

Tester Statistics
Tests
121
Balance
3rd (Season 7)
Wins
5
Podiums
17
Career points
603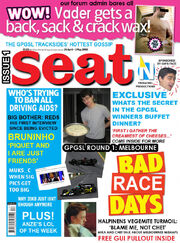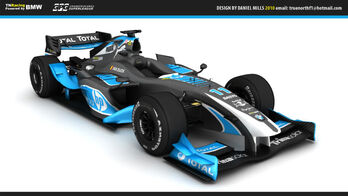 Daniel Mills is currently a joint manager and active test driver for the GPGSL.
He both drives, owns and manages the True North Racing Team, more commonly referred to its abbreviated name of 'TN Racing'.
Mills also put pen to paper to establish the very first GPGSL Tabloid Newspaper, 'Seat Magazine' many moons ago.
The publication was as erratic as some of his Latin American drivers of past seasons. However, despite this little hiccup, when the magazine has been issued, it has been a monumental success throughout the racing paddock. Two issues were released; and no more since. Disaster.
In his spare time, Mills enjoys debating the purpose of Utopian Society and creating obscure photoshop manipulations for no purpose whatsoever. His favourite day is Saturday and he greatly dislikes boiled eggs.
Filmography
Edit
| | | |
| --- | --- | --- |
| Year | | |
| 1992 | Blade II | Hot Dog Stand Guy |
| 2011 | Chicago | Showgirl #4 |
List of Achievements
Edit
| | |
| --- | --- |
| Season | Achievment |
| 3 | True North Racing Test Driver |
| 3 | True North Racing Manager |
| 1996 | Not-quite-the-Spelling Bee 14th Place |
| 2001 | 6th Place (100m hurdles) |
| 1991 | Wet Willy Inc. Enterprises (Owner) |
| 2008 | GPG Seat Magazine (Tabloid Press Publisher and Author) |
Racing record
Edit
Complete Grandprixgames Super League results
Edit
(key) (Races in bold indicate pole position; races in italics indicate fastest lap; underlined races indicate most places gained)
Season
Entrant
1
2
3
4
5
6
7
8
9
10
11
12
13
14
15
16
17
18
WDC
Points
2
Dark Xploder Racing
AUS
TD
MON
TD
BEL
TD
ESP
TD
BRA
TD
JPN
TD
AUT
TD
USA
TD
NED
TD
CAN
TD
ITA
TD
GER
TD
SAM
TD
CZE
TD
TUR
TD
GBR
TD
3
True North Racing
AUS
TD
GER
TD
USA
TD
CAN
TD
EUR
TD
SAM
TD
NED
TD
BEL
TD
MAL
TD
ENG
TD
HUN
TD
ITA
TD
JPN
TD
SMR
TD
BRA
TD
MON
TD
GBR
TD
4
True North Racing
AUS
15
ITA
18
BEL
10
JPN
12
EUR
3
MON
3
PAC
14
RSA
4
HUN
13
GER
16
BRA
10
UAE
12
MAL
17
USA
15
CAN
17
NED
11
GBR
9
10th
43
5
True North Racing
AUS
8
FRA
Ret
JPN
9
BEL
5
ESP
14
BRA
21
GER
11
NED
7
EUR
4
ITA
8
CAN
20
UAE
11
PAC
18
USA
16
MON
22
TUR
12
GBR
4
12th
51
6
True North Racing
AUS
12
ITA
18
CAN
12
HUN
14
USA
3
NED
9
SMR
21
GER
1
JPN
9
SAM
13
ATL
6
AUT
3
MON
1
FRA
4
BEL
5
BRA
15
GBR
1
4th
99
7
True North Racing
AUS
7
GCO
9
JPN
3
CAN
4
USA
12
FRA
18
NED
14
BEL
7
SUI
5
ITA
7
SMR
11
BRA
2
OCE
2
AUT
2
HUN
8
GER
1
GBR
2
3rd
120
8
True North Racing
AUS
11
SAU
3
SIN
8
MAL
11
JPN
8
CAN
5
SAM
7
BRA
15
BEL
4
GER
11
AUT
21
SMR
19
ITA
19
MON
2
FRA
16
LUX
10
GBR
Ret
7th
202
9
True North Racing
AUS
4
JPN
13
MAL
4
RSA
17
ESP
21
CAN
Ret
USA
14
BRA
14
BEL
15
EUR
15
NED
2
ITA
20
AUT
20
CZE
11
GER
19
FRA
7
GBR
1
10th
53
10
True North Racing
AUS
17
PAC
19
MAL
4
JPN
14
UAE
16
ITA
21
AUT
21
EUR
16
CAN
20
USA
20
BRA
21
RSA
OCE
GER
BEL
NED
GBR
FLE
26th
9
11
Demon Racing
AUS
4
MAL
8
JPN
19
ITA
17
ESP
17
RSA
12
USA
6
CAN
9
14th
26
BRA
4
GER
19
AUT
7
BEL
15
GBR
2
NED
13
17th
28