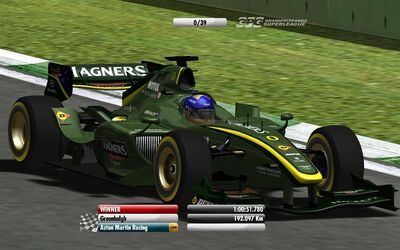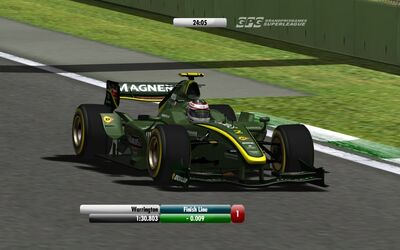 Aston Martin Racing was foundered at the end of season 4 when Nick van der Voort sold Velox Racing to Stuart Ingers. Nick stayed on as lead driver for season 5 and achieved his ambition of becoming World Drivers Champion. Aston Martin also went on to win the World Constructors Championship.
Season 6 sees Ed Greenhalgh (formerly Team Shadow Subaru) joining to replace the retiring Nick van der Voort. Ed joins former team mate and ex-champ John Warrington.
Season 6 Update: Ed Greenhalgh was the winner of round 6, San Marino Grand Prix at the Imola circuit. This was Ed's first win in the series for two seasons and AMR's first win of the season. John warrington also finished 4th, giving Aston their best result so far this season.
Racing record
Edit
Complete Grandprixgames Super League results
Edit
(key) (Races in bold indicate pole position; races in italics indicate fastest lap; underlined races indicate most places gained)
Season
Engine
Tyres
Drivers
1
2
3
4
5
6
7
8
9
10
11
12
13
14
15
16
17
18
Points
WCC
5
Aston Martin

D

AUS
FRA
JPN
BEL
ESP
BRA
GER
NED
EUR
ITA
CAN
UAE
PAC
USA
MON
TUR
GBR
229
1st
Nick van der Voort
16
15
4
1
1
2
14
3
5
5
4
6
4
6
1
2
1
Adam Davies
15
3
6
12
11
5
Ret
5
15
11
Ret
17
Ret
John Warrington
2
6
13
4
6
Aston Martin

D

AUS
ITA
CAN
HUN
USA
NED
SMR
GER
JPN
SAM
ATL
AUT
MON
FRA
BEL
BRA
GBR
255
1st
Ed Greenhalgh
18
6
15
7
8
7
1
Ret
1
1
3
1
1
1
1
1
13
John Warrington
19
12
6
18
3
14
4
6
Ret
7
12
3
7
Ret
2
2
5
7
Aston Martin

D

AUS
GCO
JPN
CAN
USA
FRA
NED
BEL
SUI
ITA
SMR
BRA
OCE
AUT
HUN
GER
GBR
294
1st
Ed Greenhalgh
1
1
12
Ret
14
3
3
1
1
10
1
1
11
1
1
2
3
John Warrington
5
19
5
6
2
10
13
3
22
1
Ret
2
3
2
18
3
Ret
8
Aston Martin

B

AUS
SOA
SIN
MAL
JPN
CAN
SAM
BRA
BEL
GER
AUT
SMR
ITA
MON
FRA
LUX
GBR
559
1st
Ed Greenhalgh
12
1
10
13
6
2
Ret
5
1
15
4
1
4
5
Ret
1
9
John Maverick
10
10
8
8
2
3
2
22
15
1
1
8
13
3
Ret
Ret
6
9
Aston Martin

P

AUS
JPN
MAL
RSA
ESP
CAN
USA
BRA
BEL
EUR
NED
ITA
AUT
CZE
GER
FRA
GBR
195
3rd
John Maverick
3
5
15
19
4
3
9
8
12
10
2
4
2
Ret
9
18
13
Andrei Sevastian
14
11
18
Jack Elleker
4
2
4
10
12
1
1
Ret
3
1
8
5
Ret
16
10
Aston Martin

D

AUS
PAC
MAL
JPN
UAE
ITA
AUT
EUR
CAN
USA
BRA
RSA
OCE
GER
BEL
NED
GBR
FLE
252
1st
Jack Elleker
2
7
7
Ret
1
2
Ret
Ret
Ret
3
1
7
3
7
9
10
3
11
John Maverick
6
12
2
9
2
1
6
2
Ret
16
11
3
9
6
4
4
7
5
11
Aston Martin

D

AUS
MAL
JPN
ITA
ESP
RSA
BRA
USA
CAN
GER
AUT
BEL
GBR
NED
158
2nd
Jack Elleker
10
10
4
4
5
1
14
Ret
11
17
9
2
5
5
Christopher Hinz
20
15
2
10
4
11
15
1
2
5
4
9
Ret
Ret